Ken Schalk : Head Instructor, Sa Bum Nim

Ken Schalk (upper right) in 2012 with Grandmaster In Hyuk Suh and three of his students on the date of their promotion to black belt

The head instructor, Ken Schalk, has been studying the traditional Korean martial art of Kuk Sool since 1991 and is currently a fourth degree black belt (or "Sa Bum Nim" in Korean). He started training while attending the University of Illinois. In 1995 he was promoted to black belt and served as an assistant Kuk Sool instructor at the University of Illinois until he completed his college studies. He moved to Massachusetts in 1997 and began teaching Kuk Sool locally in 1999.

Ken is currently the highest ranking Kuk Sool instructor in Massachusetts. He travels for training and tournaments several times each year.

"I believe that martial arts is a continuous learning process, even for the experienced instructor. I'm always seeking opportunities to improve my own skills and to bring additional knowledge back to my students."

Ken has a masters degree in computer science and makes a living through a professional occupation separate from teaching martial arts. He is motivated to teach by love of the art and a desire to share it with others.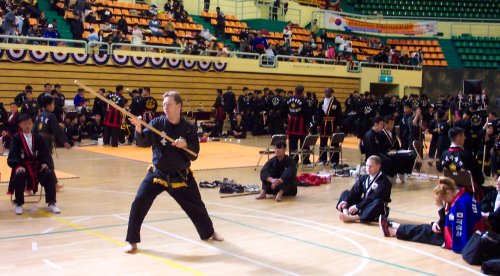 Competing in the 2002 World Kuk Sool Championship in Gyeongju, Korea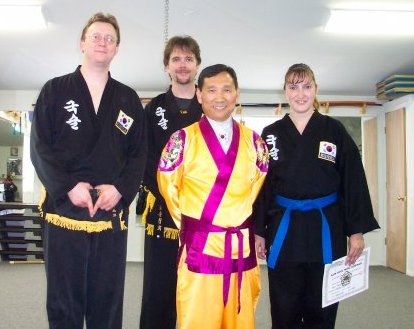 With two of his students and Grandmaster In Hyuk Suh, 2003 Summer Seminar Tour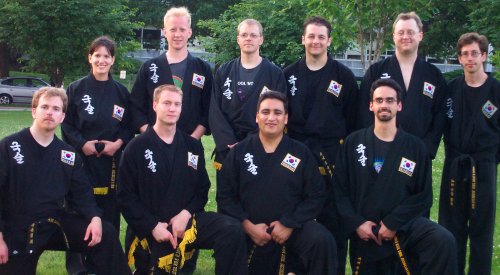 Training with other black belts in 2004
Unless otherwise noted, the contents of this web site are Copyright © 2009, Kuk Sool Won of Clinton. All rights reserved.
Kuk Sool Won ™ is a trademark of the
World Kuk Sool Association
.